Why would anyone sleep outside in the dead of winter? Of course, either they are hardcore adventurous or they want to hone their survival skills. Whatever are their reasons, winter camping requires a special gear.
Since, your super-lightweight summer tent won't help you survive in extreme cold weather (so, don't even think about it). Investing in a high-quality cold weather tent actually makes a lot of sense, especially when you don't want to end up frostbitten or with potential hypothermia.
Don't worry; these tents come in a vast variety in all kind of shapes, and sizes, no matter what your budget is.So, keeping in mind the extreme cold weather and your utmost safety, I compiled this list of awesome winter camping tents.
Experts Recommend Paying Attention to
Material: The most important feature you need to consider when getting a winter tent is the material through which it is made up of. The material needs to be thick and be able to provide appropriate insulation.
The material must be able to resist snowfall, rain or heavy wind. It is ideal that the tent comes in double layers. This adds an extra layer of insulation.
Build: Winter tents are usually sturdier and compact. They are usually A-shaped or dome shaped as these features enable them to stand firmly on the ground and allow any snow or rain to slip off. Tents also need to have appropriate ventilation. The space of the tent is another factor to consider.
The Best Extreme Cold Weather Tents
These tents will help you keep your warm and cozy in the coldest of temperatures.
This is a polyester and a spacious tent. It measures 11 x 9 feet with 6-foot 8-inch center height; screen room measures 9 x 6 feet.
It's pros are that it is able to contain 6 people. Hence, it is good for group camping. In addition to this, it comes with a robust bag with a good grip and a zipper. Lastly, it has a durable floor that remains dry.
It's cons are that, it has a bigger size than other tents and could be potentially harder to transport. Setting it up for the first time requires a learning curve. Later on, it becomes easier to set up.
Check this post about tents with rooms
This is a four person, four-season tent. It's floor area is 64 square feets. It pro features are that, it comes in two beautiful colors; Arctic white and Woodland Camo. Secondly, it is a spacious tent and can be used for group camping.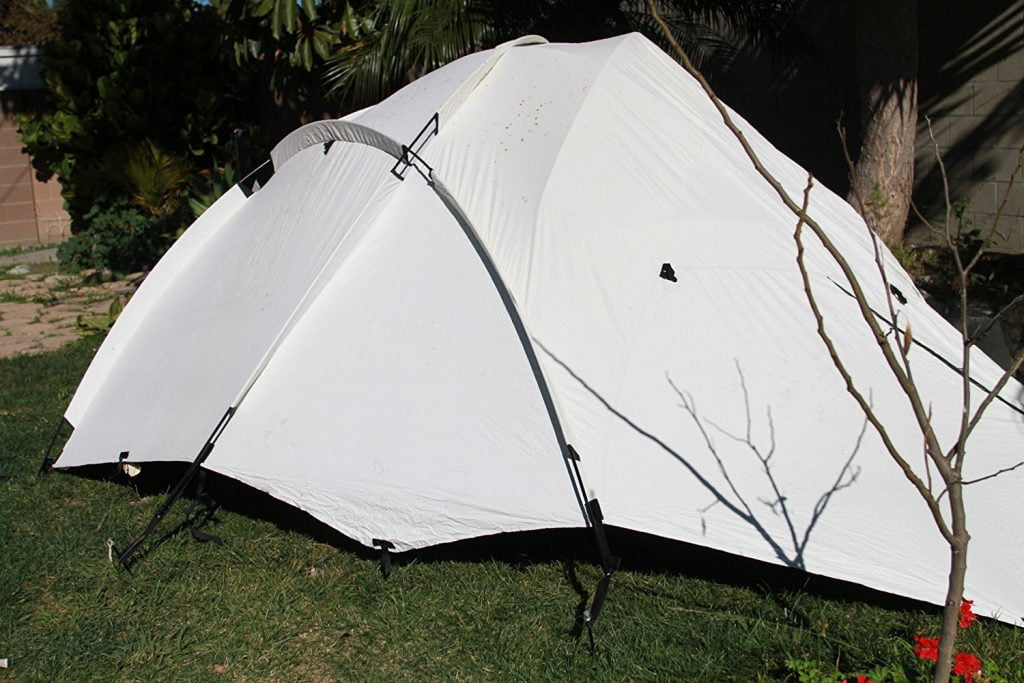 On the other hand, you will be unable to put a stove in this tent. This makes it hard to cook within the tent, in extremely cold conditions.
Main Features
Color: Arctic White, Woodland Camo

USMC USGI

4 Season Tent

4 person tent

Floor Area: 64 sq. ft.
This is an extremely large nine person tent. It has two windows, two doors and two meshed roof ventilations. It is an eighteen feet by ten feet tent. It's area is 159 square feet. It weighs 24 pounds and it's stakes are made up of steel and plastic.
It's pros are that, it is affordable and spacious. The tent can further be compartmentalized into two sections using the room divider.
It's cons are that it is a lightweight tent. It requires additional stakes at the bottom in high wind conditions. Setting it up requires up to 20 minutes.
This is an ultralight, waterproof tent. It is made up of 20D waterproof double layers. Its' weight is 6.7 pounds and it usually comes in orange color. It is durable and resists rain, snow and sediment well.
It's pros are that, It price range is medium and a good choice for anyone starting out with winter camping. It can be used in any type of weather or season. The 20D double layer which makes it ideal in terms of insulation and heat trapping.
It cons are; It requires light handling when setting up and whilst dismantling. It is really hard to setup with poor instructions in the manual. It is a small sized tent and the interior can only fit in two people. The ventilation is also seems to be an area requiring further enhancement.
This is rather a small sized tent. It It is lightweight, easy to carry and very affordable. It's weight is 0.62 Lb and the packaging measures 8"x 5". It's main purpose is for emergency camping.
It's pros are that, the tent is made up of of NASN Mylar material. This material is tough and has silver inner lining which reflects light internally and stores significant amount of body heat. It prevents hypothermia in moderately cold environments. The material is also water and rainproof and can keep you dry in rain. It is also very much affordable.
It's cons are that, it can only accommodate two people. It is also extremely lightweight and may not be suitable for heavy wind.
It's diameter is 11.4 Ft. and the height is 6.6 Ft. It's fabric is the resistant Oxford 240D material. The tent weights 51 Lb. has 2 Door and 2 Windows and can take up to 4 people. It is a resilient four-season tent and can house up to four people.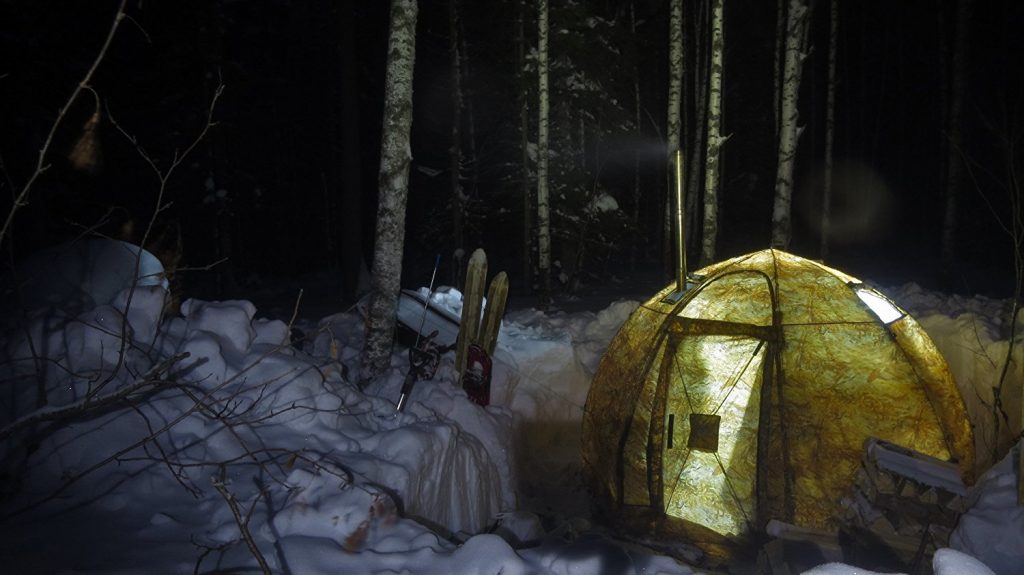 It's pros are; It is extremely easy to set up. It has an inbuilt stove. It has double layers which prevents condensation on the walls and provides insulation internally. The stove allows the clothes to kept warm and prevent them from freezing.
It's cons are firstly it is expensive. Also, despite its' high price, it is only able to accommodate just four people. Otherwise, this is a great all rounder tent and is suitable for extreme cold weather camping.
In conclusion, whenever you are planning to do extreme cold weather camping, you should plan well and make the appropriate choices on what type of tent will fulfill all of your needs. Such decisions can be based upon the size of your group, the temperature and your budget.
The list of tents above will provide you a big-range of tents. It will be appropriate to go through them all and carefully selecting a tent that satisfied your needs.