When going on a camping adventure, everyone looks forward to happiness and fun. Certainly, days spent camping may not be comfortable as being at home.
Nevertheless, there are still creature comforts we crave when we go camping.
One of the most important decisions camp organizers and families make is choosing a tent that will campers as comfortable as possible>/p>
Without doubt, when considering privacy and the number of campers, a multiple-room tent becomes paramount. The choice of a tent is an important decision for camp organizers and families.
Here is a list of our favorite camping tents for 4 persons.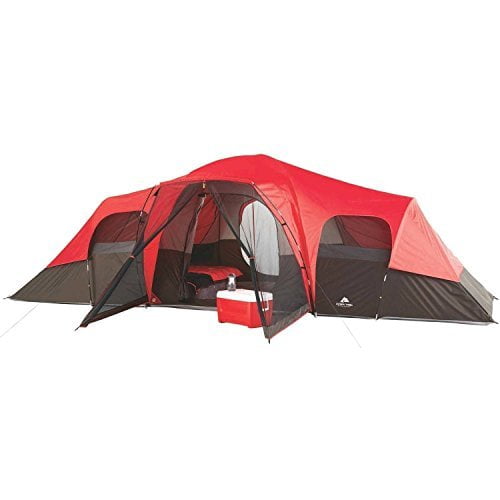 This interesting tent is nothing short of awesomeness! It has the capacity to conveniently house 10 people within three rooms.
The inside portion of the tent is spacious. There are two detachable nylon walls that break the tent into 3 rooms. Quite spacious spaces. The left and the middle rooms can take 3 people each, conveniently, while the right room can accommodate four persons.
There is a large window on the middle wall of the tent. It opens at about a right angle to allow ventilation and give a back view of the tent space. There is one window each on the east and west walls, and two more in the front. So, there is enough chance for cross ventilation.
Features
It is 20 feet long and 11 feet wide. It offers a perfect shelter from rain and a considerable tolerance for storms. During mild rainfall, it allows water to sweep underneath.
There is a small room compartment at the doorway. It comes in handy and helpful to put shoes, rain boots, dusters or any other non-sharp outdoor gears.
It has a transparent front screen door that offers a view of the outer space.
There are fins on the side of the front whose purpose is to give stability to the tent if it is getting windy, especially, in mountainous areas.
There is an extension over the front door, held by thin metal rods and strips, to avoid rain seepage. It can also serve as a shade during sunshine.
There are purses on the walls where phones, jewelry, cash and any other vital belongings can be kept.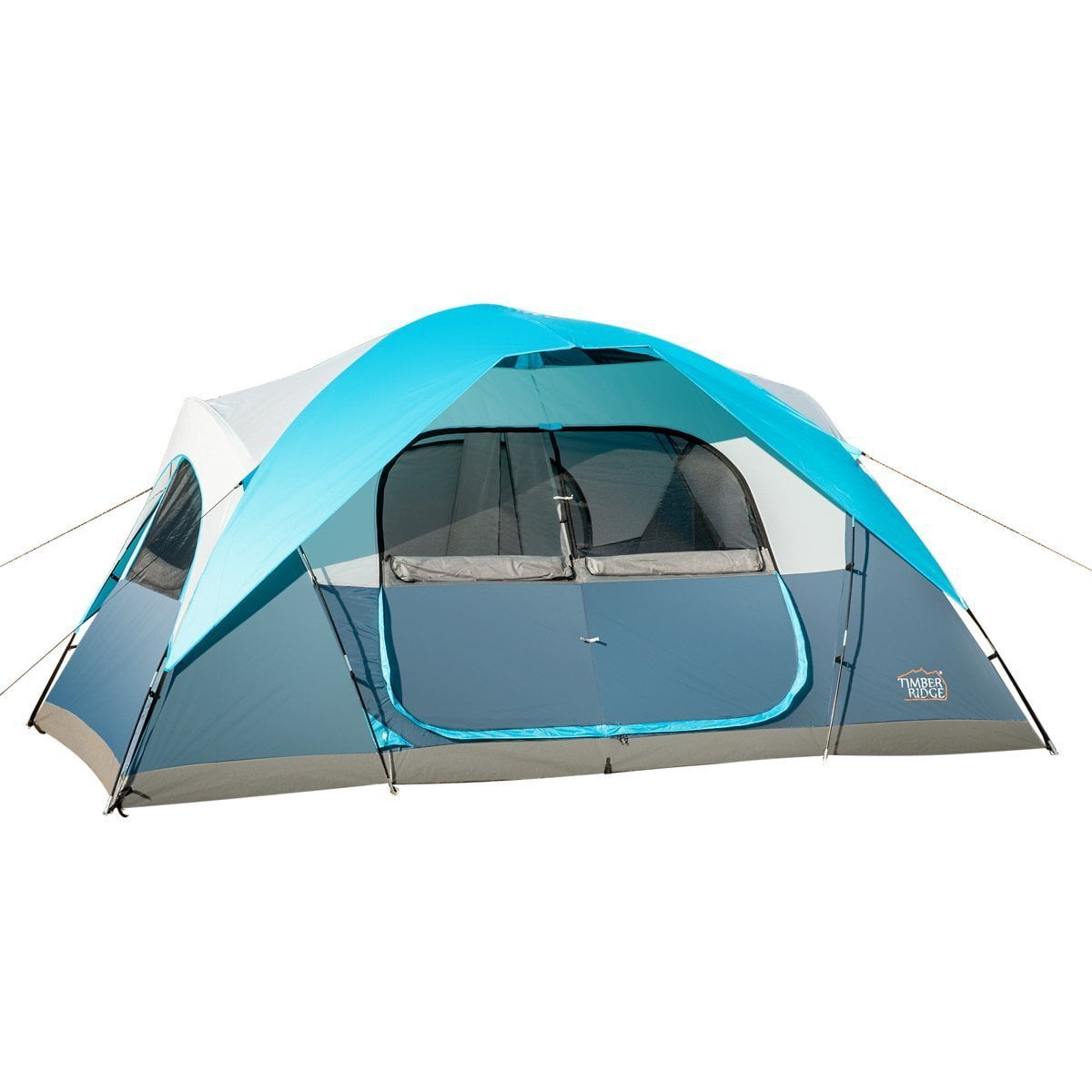 This Timber Ridge tent can conveniently accommodate 10 persons. The tent is supported by poles with hinges and joints, and some rope straps. There is a major doorway that leads to the outside space. What makes the tent a good choice is its windows. The single tent is convertible into two rooms, for privacy purposes. The wall (partition) only needs to be let down from its suspension. They are suspended to the metal rods that form part of the roof. There are pockets on the walls that can hold valuable and portable goods.
Features
It is made of a 190T polyester PU coating.
There are single windows on each room side of the tents; they are netted, thus, serving as pest control.
The windows can open in a large rectangular shape.
Accommodating, doorway, shaped into mirrored Ds. The back of a D to the other D.
The center height is approximately 80 inches. 6.7 feet.
A wall partitioning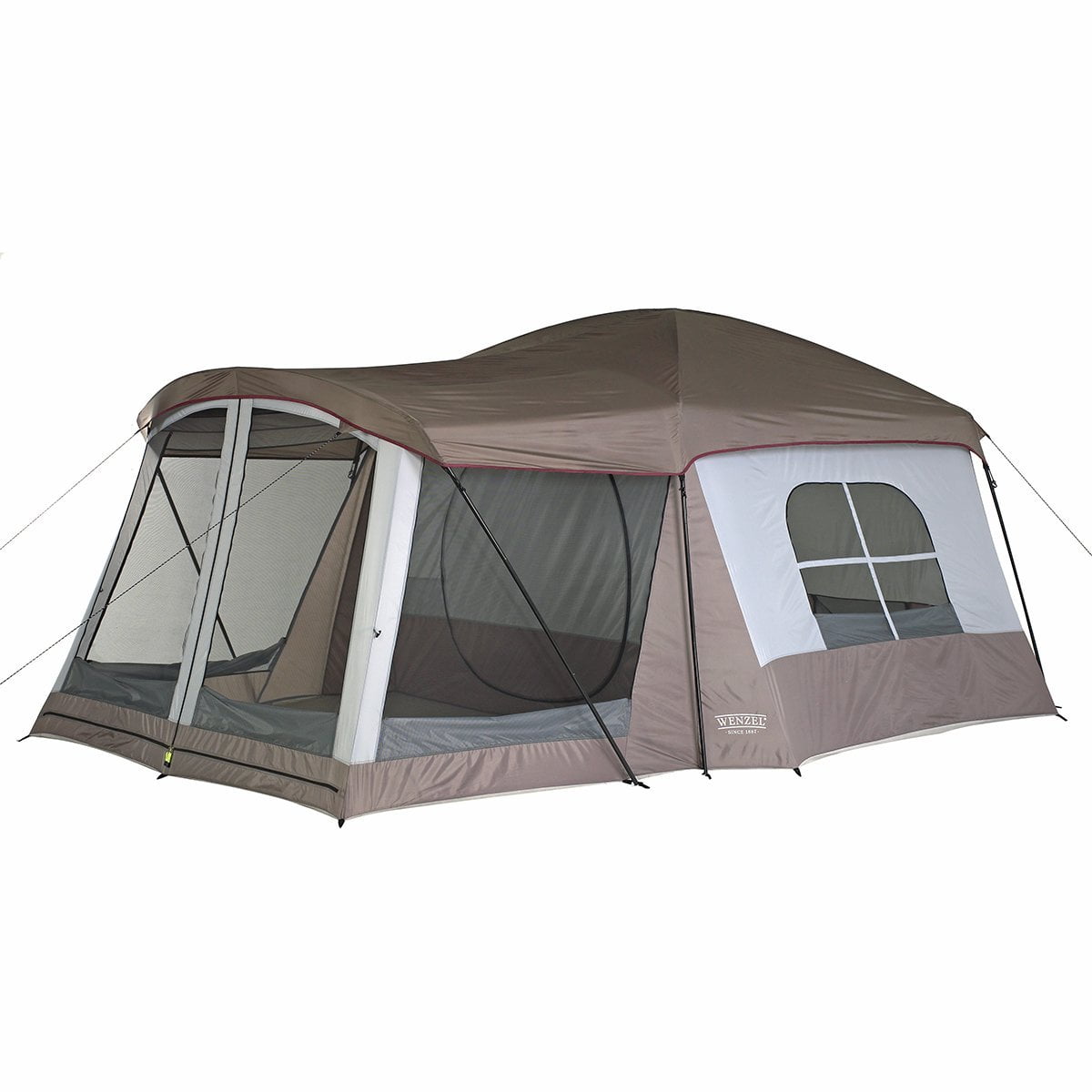 This bestselling tent comes in an extremely portable rectangular pack. From a front elevation, it looks like the body of a bus. It has an aerodynamic structure. It can be set up in any season of choice. However, it is advisable not to set it up in extreme rain or stormy atmosphere.
It easily contains 8 a family of 8. The back hatch assumes a dome shape. It is made of a weatherproof polyester with a special polyurethane coat. It has a full mesh roof option; the polyester can be removed from the rooftop, leaving a net opening above.
The net parts are to allow good ventilation without pest or insect invasions. The opened roof hatch can be closed up from the inside by pulling the zip over. The window openings are also lined with nets, hence, no worries about stings or bites from unwanted creatures.
The front part has netted walls that can be covered, come rain or shine. It extends to the latter room with a circular opening. It measures 16 feet on the longest part and 11 feet on the widest part.
Features
Netted Ventilation
Polyester body
16 X 11 feet
2 room compartment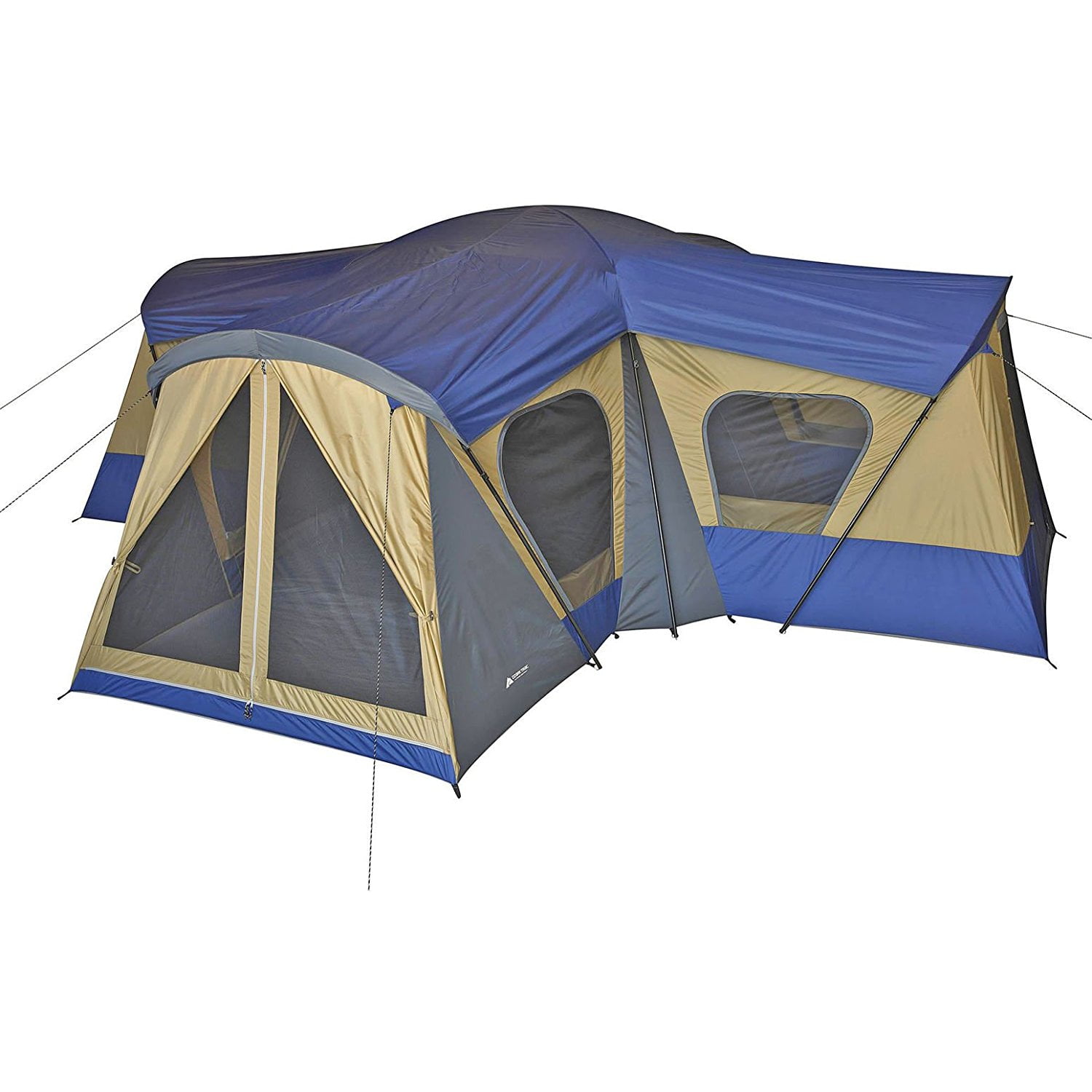 This tent offers 3 rooms that can contain 4 large bed sizes. It is one of the top-seller tents. It is easy to set up, as the supportive rods have been pre-attached by its manufacturers.
It can be set up into three rooms area, by attaching the 2 room partitioning (dividers), and can be made a single area by detaching the dividers. It is totally made for family camping purposes.
There are two large side vents that support proper and cross ventilation. It also has an extra-large window opening and a shady area. The widows have net linings, to promote human healthiness by protection against flying and creeping pests.
There are 2 doorways to this tent; the front access and the back one. There is a totality of four pockets to keep mobile devices and other light and portable materials. On an X by Y axes, the dimensions measure 20 by 10 feet, with an 80 inches (6.7 feet) center height.
Features
3 room compartment with 2 dividers
3 windows
2 door ways
20 X 10 X 6.7 feet dimension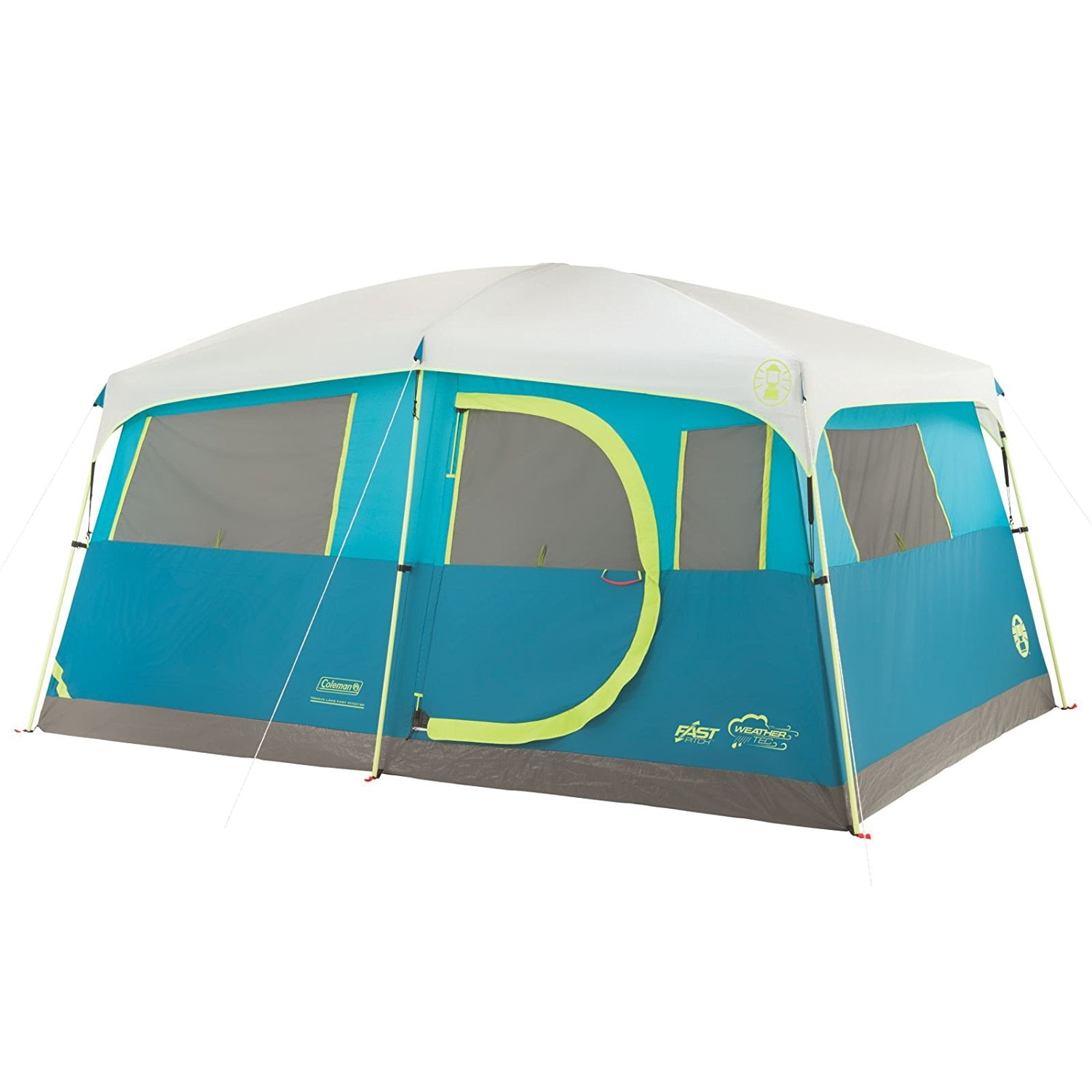 Coleman Tenaya is a camp tent that can be divided into 2 room spaces with a single room divider. This camping space can conveniently house eight individuals.
This tent offers an impressive home setting that allows organization within its walls. It has an inbuilt 2 by 2 feet closet that includes shelves a hanger.
It has a semicircular, hinged door that allows easy passage, even for plus sizes. The entire design is weatherproof, made with impressive polyester materials. The floor is waterproof, thus safe in on days with mild rainfall or snowfall.
The cabin dimension measures 13 by 9 feet. The tallest point within the tent measures 80 inches, that is, 6.7 feet. The poles and straps are to be pegged to the ground for firmness. The entirety of this tent is intriguing as it assumes the shape of a real condo.
Features
Weatherproof and waterproof polyester body
13 X 9 feet dimension
Poles and rope straps for support
2 room spaces with 1 room divider
Inbuilt closet, including hangers and shelves.